The sleekest, most efficient electronic product is nothing without the battery that powers it. Enter lithium, the raw material battery manufacturers depend on. With electric/hybrid vehicle use on the rise and demand for consumer electronics steadily climbing, lithium producers with quality product should have no shortage of potential buyers. In this interview with The Energy Report, Luisa Moreno, mining and metals analyst with Euro Pacific Canada, names her top lithium picks with both the goods and the customers.
The Energy Report: 
Luisa, tell me: What is exciting about lithium?
Luisa Moreno: Lithium has many unique and important characteristics. It is the least dense solid element and the lightest metal. It forms alloys with some of the highest strength-to-weight ratios. Lithium has the highest specific heat of any solid element, and is used in heat-transfer applications. It has neurological effects in humans, and so is used in pharmaceutical applications, such as mood stabilizers. Lithium chloride and bromide are two of the most hygroscopic, or water-absorbing, known materials and are used in air conditioning, industrial drying systems and dehumidifiers.
In the recent years, lithium has gained increasing attention as it has become an essential component in ultralight electronic devices. It is also increasingly the preferred medium for electric vehicle batteries, and that makes lithium important for the development of a greener, cleaner world.
TER: What are the principal industrial applications of lithium?
LM: The major application traditionally has been in the glass and ceramics industry and is used in the manufacturing of grease lubricants. Lately, we have seen an increased demand for lithium in the battery sector. Batteries, glass and ceramics combined account for more than 55% of the world demand. Lubricants and metallurgical applications are also important and account for about 20% of world demand.
TER: Which applications are growing the fastest?
LM: Battery applications are growing significantly faster. We expect to see that sector increasing about 12.6% per year going forward to 2020. The others will continue growing, but more on pace with the global GDP, closer to 3%.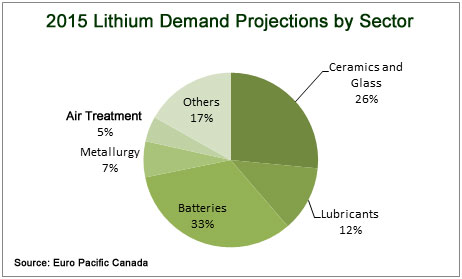 TER: Does lithium have any competitors in these applications among commodities?
LM: There are substitutes for lithium in most of its applications, but it seems that lithium has been consistently the preferred element material because it likely offers the best performance/cost ratio compared to other materials.
TER: How fast has demand for lithium grown in the last decade?
LM: It has grown 7–8% per year. That has been driven significantly by demand in the battery sector, which is related to the adoption of electric vehicles and smart devices like iPhones, iPads and lighter laptop computers.
TER: What companies in lithium are your favorites, and why?
LM: We've been following the progress of Nemaska Lithium Inc. (NMX:TSX.V; NMKEF:OTCQX). We like how the Whabouchi project has progressed. The Whabouchi deposit grades are among the highest in the world. While most lithium junior companies are targeting the lithium carbonate market, Nemaska is focusing on lithium hydroxide, which is a higher value product. It can be sold at a price of more than $8,000 per tonne ($8K/tonne) compared to $6K/tonne for carbonate, depending on grade. And lithium hydroxide is an increasingly interesting lithium compound for batteries because it also offers better performance.
Nemaska has also managed to secure strategic partnerships. One of them is with Sichuan Tianqi Lithium Industries Inc., a subsidiary of Chengdu Tianqi Industry Group Co. In addition, Nemaska has a secure partnership with Phostech Lithium (a subsidiary of Clariant Canada Inc. a member of Clariant AG Group [SWL:CLN]), and is fairly close to production now. It wants to develop a modular plant to start producing lithium hydroxide.
So, to sum it up, we like its high-quality deposit, its unique business plan, its new process targeting a not-so-competitive part of the market and the partnerships that it has been able to secure. We have a Speculative Buy recommendation for the stock and a $0.57 target price.
TER: Nemaska has a 100% offtake with Phostech scheduled for 2014. Will the modular construction enable Nemaska to complete a 500 tonnes-per-annum (500 tpa) plant by then?
LM: Yes, contingent on its ability to finance that first plant. Its target is even higher—20,000 tonnes—so that will be the first modular plant of many other ones to follow. The idea is for Nemaska to work together with Phostech Lithium to tailor the lithium hydroxide product to the specifications of Phostech Lithium and other potential customers.
TER: Nemaska Lithium Inc.'s share price dropped very quickly starting in March 2013. What happened then to cause it to drop?
LM: I'm not completely sure why the stock had such a hit. The market for resources has been very volatile and weak. The company has been trying to raise funds for the first plant and, given the markets, the fundraising period was extended. It is possible the market was nervous about that and there was some pressure on the stock as a result.
TER: Is the Cree Nation committed to Nemaska Lithium Inc.'s business plan to exploit the resources up there?
LM: It seems to me that they are committed to the development of the project. I visited the Nemaska Lithium site, and when we were there we had the privilege to meet the chief of the Cree Nation and some of the other members of the community. They own 2.6% interest in Nemaska Lithium. They showed a lot of interest in the mine's development and believe it could bolster economic development for the region.
TER: Are there any other companies that interest you?
LM: Yes, we launched coverage of Canada Lithium Corp. (CLQ:TSX; CLQMF:OTCQX). We have a Speculative Buy recommendation and $0.90/share target for the company. We like that name, first of all because it's one of the most advanced, if not the most advanced lithium project right now. The company has completed most of the construction and is starting to produce on a continuous basis. The target production for this year is roughly 3,000 tonnes. It expects to reach its 20,000-tpa target by next year.
Canada Lithium has secured offtake agreements with two different parties. The company has a business plan to diversify its suite of products. The main product is lithium carbonate but it plans to also produce lithium hydroxide and sodium sulfate products. It got a $6.5-million ($6.5M) grant from Sustainable Development Technology Canada (SDTC) to develop a lithium metal plant, so that's another project under development. The company is really one of the frontrunners. It's very well positioned, has offtake agreements and a strong management and technical team.
TER: Canada Lithium Corp.'s mine and plant are only in the startup phase, but you expressed confidence that it will be able to produce other lithium products by 2015 and build a sodium sulfate plant. That's a pretty full plate. What's the basis for your confidence?
LM: The company is very much interested in developing these other businesses. We did not include these other products in our model and they're not part of the target price, either. From my perspective, this is potential blue sky for the company. As I said, the company has a grant of up to $6.5M to develop the plant for the metal, so it already has that funded for development of a pilot plant. And it has done extensive work for the production of lithium hydroxide. It worked with SGS Minerals Services, and concluded it would be economic to develop a facility for lithium hydroxide.
TER: What is the term for Canada Lithium Corp.'s offtake contracts?
LM: The contract with Tewoo Group is a five-year agreement to sell a minimum of 12,000 tonnes of battery-grade lithium carbonate, which accounts for 60% of Canada Lithium's production target of 20,000 tonnes of lithium carbonate. The agreement has a provision that allows the offtake to increase to 14,000 tonnes, which would account for about 72% of the total target for production. The other contract with Marubeni Corp. (MARUY:OTC; TYO:JP-8002) is a three-year distribution agreement. It will start at a minimum of 2,000 tonnes of lithium carbonate this year, and that could potentially increase to about 5,000 tonnes going forward. These are very nice agreements considering Canada Lithium is not at full production yet.
Canada Lithium was likely able to secure a good share of the supply market as it is planning to sell a carbonate product with higher purity and higher value than products sold from existing South American brine producers. South American "commercial" grade lithium carbonate sold for about $4K/tonne in 2012, and Canada lithium expects to sell its lithium carbonate product for $6K/tonne, 50% higher. North American high-purity lithium producers, including Nemaska, benefit from relatively lower energy and reagent costs.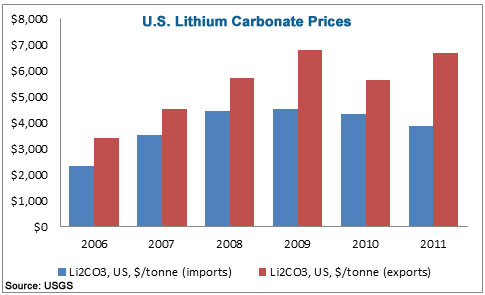 TER: Do you have any other lithium companies under coverage?
LM: We have featured a number of other names that we are watching very closely. We like Orocobre Ltd.'s (ORL:TSX; ORE:ASX) Salar de Olaroz project in Argentina. According to recent announcements, the company is now lining the evaporation ponds and will start the evaporation process very soon. That process usually takes 18–24 months, so we expect the company to start producing some brine concentrate probably by 2015 or 2016. We also appreciate that the company has a partnership with Toyota Tsusho Corp. (JP-8015:TYO) and seems to be well funded.
Back into the hard rock space, we like the names that have the potential for byproducts. We are watching two companies very closely. One is Critical Elements Corp. (CRE:TSX.V), which has a project in Quebec as well. The company has potential to produce a tantalum byproduct out of its spodumene deposit.
Houston Lake Mining Inc. (HLM:TSX.V) is a smaller but very interesting company in the early stage of development. It has shown very high grades from drill results, with byproducts as well of tantalum, and potentially cesium and rubidium.
We have featured a number of companies at different stages of development and with different types of lithium deposits, including those with lithium clay deposits and jadarite-rich deposits with lithium and boron mineralization. We expect some of these companies to become part of a diversified lithium supply market.
TER: I appreciate your time, Luisa. It's a very interesting field.
LM: Absolutely.
This interview originally appeared on http://www.theenergyreport.com/pub/na/15537